Japanese Style Design
Japanese style design, more than any other, must be simple, balanced, have harmony, and be done with great skill and care using natural materials. I, Joe, do appreciate Japanese style more than any other, especially the Sukiya or Teahouse style.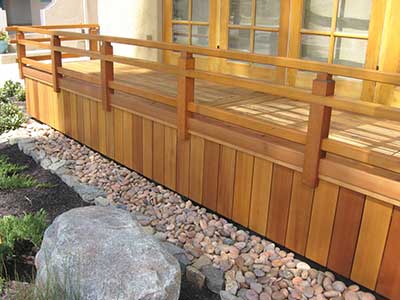 Many of our projects, plans, and kits are in Japanese style design but we do employ some traditional American joinery and western style building techniques. For example, our Azumayas use rafters, ridge beam, rafter ties, and modern connectors which are mostly concealed instead of the traditional Japanese way of constructing roofs.
Incredible work. Joe built a beautiful Japanese style railing for my deck. I could not be happier! The design, materials, and craftsmanship were first rate. Joe sent daily emails with photos detailing every step in his workshop as the railing was fabricated. He has an outstanding design aesthetic, but is open to ideas. I can't recommend him highly enough!
On this site, you can see some of the Japanese wood structures we've built, some offered as kits, and as plans. We also welcome inquires about other Japanese garden structures perhaps not seen on our site.