Gazebos create a beautiful backyard. Building gazebo plans in your backyard can completely transform the space and increase your home's curb appeal. They aren't just about offering cooling shade from the hot sun, but they can also help make outdoor dining entertaining or simply make relaxing more comfortable.
While purchasing a gazebo kit consists of all the hardware that makes it easier and faster to install a gazebo, many find it much more satisfying and budget-friendly to gather the required materials in order to design their dream gazebo themselves. Here are 8 gazebo plans to provide to help you build your own backyard.
1. Hot Tub Gazebo
A hot tub gazebo plan can help you create shade and provide vented protection. If you'll use downloadable plans, they will guide you to construct your desired gazebo using step-by-step directions, tool lists, and illustrations. You can even build a 14-foot by 14-foot double-roof gazebo. Depending on your skill level and the time available, you can even be able to finish building your gazebo in a day.
2. Gable Roof Gazebo
If adding an outdoor shelter is your priority, you can these gazebo plans. It will provide your backyard with dining and entertaining surrounding. The gable roof gazebo provides an optimal size when it comes to covering most standard picnic tables and patio sets with a size of 12 feet by 16 feet. No matter what your skill level is, you can use these plans to easily set up a gazebo for you.
3. Picnic Table Gazebo
Do you want seating and roof in the same place with the same design? Picnic table gazebos can be your best choice. You can transform your backyard into a picnic spot. With the detailed plans, you can have a wooden gazebo attached to a picnic table and benches. The best part is, you can buy these plans at very competitive prices compared to the expensive ones.
4. Grillscape Gazebo
Grillscape Gazebo plans can help you construct a gazebo retreat in your backyard where your guests can relax in the shade. If you want a gazebo to be around 14 feet, a grillscape gazebo would be your ideal solution while bringing in space for a grill and patio dining set.
5. Hip Roof Gazebo
If you are looking for a hip roof-designed gazebo, these plans will provide you best results. All you need is woodworking tools to construct the 12-foot by 12-foot hip roof gazebo, and the sides of the structure can be enclosed with wood railing if you need it.
6. Oval Garden Gazebo
Apart from the usual square and circular gazebo designs, you can build an oval garden gazebo using plans that provide you with a stunning octagonal gazebo. These detailed plans are professionally drawn and easy to understand. With all the materials, cut lists, cutting templates, professional drawings, and a step-by-step process in place, these plans are simple to follow. They usually come with a 14-foot by 16-foot double hip roof gazebo style, offering enough room for relaxing outdoor space.
7. Outdoor Kitchen Gazebo
The continuous roof of a gazebo is more to create a better spot for enjoying a meal outdoors, rain or shine. Using outdoor kitchen gazebo plans, you can capitalize on built-in bars for eating and drinking. The plans include a shopping list, a cut list, and detailed instructions to help you set up a gazebo.
8. Screened-In Gazebo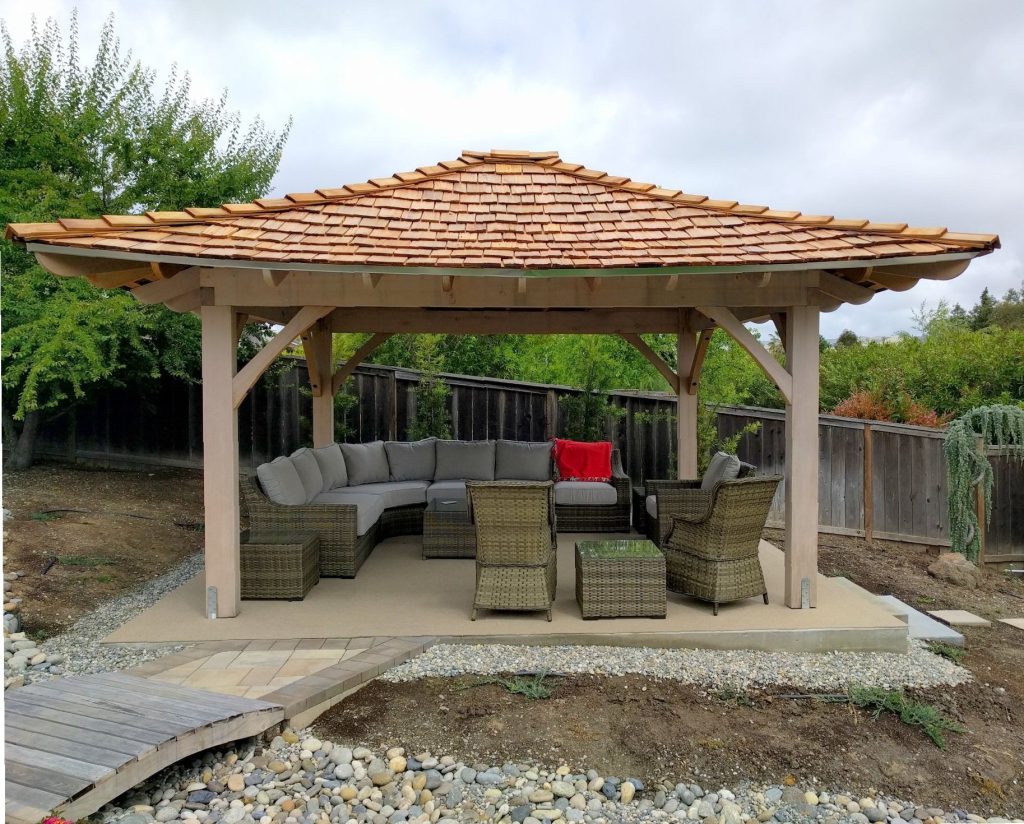 Open gazebos can be problematic because of the small bugs that could come along. Therefore, you can keep all those pesky bugs away with the help of a screened-in wooden gazebo with 12 feet by 12 feet measures. These plans include clear building instructions, a shopping list, a tool list, a cut list, and diagrams so as to help you build your own gazebo.
Buy Top Notch Gazebos for your Backyard
WoodsShop has been providing world-class gazebo plans with a variety of styles, designs, and sizes that you can choose from to establish a backyard gazebo.
All of our plans come with an accurate materials List, and some also come with Full Sized Template files for the more difficult and critical parts. Above all, all of our plans can be further customized to fit your site to ensure home curb appeal. So, what are you waiting for? Get your desired gazebo plans installed by professionals and achieve an attractive garden structure.